The brand new Italian restaurant has recently opened its doors in Hillside, NJ, guaranteeing you a great experience. The BYO Italian European Kitchen is a family-owned and operated establishment that features Italy's and Europe's vibrant cuisine. It's a quiet place to eat out and meet friends and family for authentic Italian cuisine, which offers an inviting atmosphere.
Traditional Italian dishes are now being offered in addition to authentic European meals at the restaurant.
The menu includes brick-oven pizza, unique pasta dishes, meat dishes, seafood, appetizers, and more.
The same group of people who own Fig and Tomato is the same group who own Raw Oyster Bar & Italian Kitchen.
The Appetizer menu offers a couple of the restaurant's uniqueness, including the famous short rib mac and cheese. The charcuterie board has everything with bagel goat cheese, Vermont cheddar cheese, hot capocollo, salame toscana, Prosciutto Crudo, olives, roasted peppers, jarlsberg cheese, olives, hot infused honey, and crackers.
Chicken Milanese is their exceptional entrée; it has Tomato, arugula, burrata, onion, and lemon balsamic. Their garlic PARMIGIANA shrimp looks mouthwatering and delicious.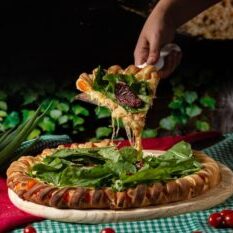 Hoboken pizza
Their Hoboken pizza is like a half calzone and half pizza pie; it's heavenly delicious, roni cup, "a cup and char" pepperoni, mozzarella, garlic knot crust, with homemade vodka sauce."
They have a large dining room and an outdoor area for dining alfresco. During the summer months, live music is played on the weekends. They can cater for your private events as well.
Fig & Tomato is located at 100 Park Ave., Hillsdale, NJ.
Hours are as follows:
Tuesday – Thursday from 11:30 AM to 9 PM,
Friday – Saturday from 11:30 AM to 9:30 PM,
Sunday from 11:30 AM to 8:30 PM.