Bergen County provides numerous ice skating rinks as an ideal way for families to come together and have a great time. Ice skating is an exciting and straightforward activity that all ages can participate in, regardless of their previous experience or ability level. It's the perfect opportunity for parents, children, and grandparents alike to partake in a fun-filled activity while spending quality time with one another.
No matter what time of year it is, ice skating is always a fun activity for the whole family. With the many local rinks available, you can head out and enjoy this exhilarating winter sport, no matter the temperature.
So whether it's sunny and warm or snowing heavily, there's sure to be an ice rink open nearby. Plus, skating provides an excellent opportunity to get some exercise while having fun at the same time!
So next time you're looking for something enjoyable, you can do with your loved ones, why not visit one of these local ice rinks? You won't regret it!
Best Ice Skating Rinks in Bergen County for Families
Cutting Edge Ice Academy
The Cutting Edge Ice Academy is renowned for delivering the most comprehensive hockey training available, no matter your age. Whether you wish to enhance your skills or refine your game, they offer an incomparable experience that will elevate your ice hockey talents to the next level. With their up-to-date training and state-of-the-art facilities, there is no better place to gain the tools you need to become a true master of the sport.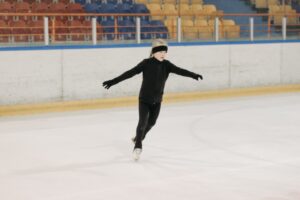 In addition to private and small-group training courses, they also offer specialized clinics for all ages and skill levels, as well as 3-on-3 competitions that provide an entertaining way for players to hone their skills.
Advanced goaltending lessons are available for those who wish to receive more challenging instruction. These specialized on-ice training courses are created to help players reach their maximum potential and succeed. They focus on refining skills, increasing speed and agility, and improving overall hockey knowledge. Participating in this type of program allows players to gain the confidence necessary to reach the peak of their abilities and become the best they can be.
Location: 71 Midland Ave., Elmwood Park, NJ
Phone Number: (201) 773-6647
Fritz Dietl Ice Skating Rink
For over sixty years, Fritz Dietl Ice Skating Rink has been a special place where families have created cherished memories, and many skaters have gone on to become champions.
Since it opened in 1958, this rink has provided the perfect setting for people of all ages to enjoy the joys of ice skating. It continues to be a popular destination for individuals looking to share their love of skating with others. From its inception, Fritz Dietl Ice Skating Rink has been committed to providing quality experiences that leave lasting impressions. It is the ideal location to improve your ice skating.
Their instructors are certified skaters who make learning to ice skate simple and pleasant. In addition, groups, schools, and hockey clinics may rent out the ice rink and have personal training sessions. In addition, they have several public sessions available.
Location: 639 Broadway, Westwood, NJ
Phone: (201) 664-9812
Ice House in New Jersey
Located close to New York City, the Ice House is the largest facility in the Tri-State area and features four regulation-sized NHL rinks.
This state-of-the-art skating venue is equipped with a comprehensive selection of amenities, including a full-service food court serving up delicious snacks and meals, spacious party rooms perfect for hosting special occasions, and versatile meeting spaces ideal for corporate events.
Moreover, it is home to one of the largest and most comprehensive hockey and skating pro shops in New York and New Jersey. It offers its customers an extensive selection of equipment for a wide range of competition levels, provided by its knowledgeable and experienced hockey and skating team. This top-notch shop offers everything needed for a successful game or practice session.
Location: 111 Midtown Bridge St., Hackensack, NJ
Phone: (201) 487-8444
Mackay Ice Rink
The Mackay Ice Rink in Englewood is a beautiful facility that offers something for everyone – regardless of age or skating ability. The rink provides an ideal space for people to enjoy recreational activities and have fun.
Those who are just starting can take advantage of the learn-to-skate program, where they will get the chance to receive professional instruction on how to maneuver around the ice properly. On the other hand, more experienced skaters can join the hockey program and hone their skills even further in this exciting sport.
Moreover, the ice rink is great for birthday parties or open skate time. It can also accommodate private events and celebrations such as company outings, family reunions, or other special occasions. Furthermore, it is an ideal setting for people of all ages and skill levels looking to get together in a fun atmosphere to enjoy each other's company.
Location: 130 W Englewood Ave., Englewood, NJ
Phone: (201) 568-3133
American Dreams The Rink
The American Dream's NHL-regulated-sized ice rink features activities for the entire family, including figure skating, hockey tournaments, open skating, and private events.
With an expansive NHL-regulated size skating rink, there is more than enough space to skate and maintain a suitable physical distance between players. This provides a great advantage for all participants, as they can enjoy the sport without fear of overcrowding or feeling uncomfortable in their environment. Thus, everyone can participate in the game without worrying about being too close to other skaters.
You can easily organize your own Hockey game or league by using the penalty boxes and locker rooms available. These rooms are fully equipped with all the requirements to host a great game, from scoreboards to goal nets. With this convenient setup, you can get your players suited up and ready for exciting hockey action in no time!
They offer a unique opportunity for kids aged 5-9 with their "NJ Devils Learn to Play Program" to learn from the pros and develop the necessary skills to help your children succeed both on and off the ice.
You can also host your own private and exclusive event, renting the entire rink for yourself and transforming it from its usual purpose to sporting events to something more unique, such as concerts or other forms of entertainment. It is an excellent opportunity to make the occasion memorable and enjoyable for all involved.
Also, you can rent skates, included in the cost of admission, available in youth sizes 9 to adult size 12.
And the interesting "Grab an Ice Buddy" can help your kid or beginners have an enjoyable spin with a seal-shaped skating support system that helps them find their balance.
The atmosphere was electric, with people skating at all levels of ability. We had a lot of laughs and even got to try some new tricks! The staff was amiable and accommodating, adding to the overall positive experience. It was a great way to spend an afternoon–we all agreed that we'd come back again soon.
The staff was accommodating and friendly, allowing my daughter to learn how to ski quickly. In addition, they provided helpful tutorials that allowed her to enjoy skiing on her own confidently.
Location: 1 American Dream Wy, East Rutherford, NJ 07073
Phone: (833) 263-7326
Why Families Must Visit These Ice Rinks In Bergen County
Bergen County is the place to go if you want an unforgettable and exceptional ice skating experience. There are many different ice skating rinks in the area that offer a wide variety of fun opportunities to exercise while having a great time. Whether you prefer traditional figure skating or something more daring like speed skating, there will surely be something here for everyone to enjoy.
Come and indulge in this extraordinary opportunity to revel in some wintery fun! Whether you're an amateur or a proficient skater, there is sure to be a rink that caters to your particular needs. So why not seize the moment and get out on the ice? Start skating now and make the most of this delightful season!
Summary
This article provides an overview of the various ice skating rinks available in Bergen County, New Jersey.
It highlights the features and amenities each rink offers, such as learn-to-skate programs, recreational hockey leagues, birthday parties, figure skating lessons, and restaurants with views of the ice. The article emphasizes that regardless of age or skill level, there will surely be something for everyone at these rinks. It encourages families to come out and enjoy some wintery fun together while getting exercise in a fun atmosphere.